---
We've update our 

Privacy

 

Policy 
We wanted to let you know that we've updated our Privacy Policy in line with new data protection laws, which come into effect on 25 May 2018. 
We take our data privacy responsibilities very seriously at Beauty Boutique, and we want you to understand and feel confident about how we collect, store and handle your personal data.
If you would like to find out more email us info@beautyboutiqueswindon.co.uk
---
Wiltshire Business Awards 2018
We had  a fabulous night at the Wiltshire Business Awards.  Sadly we came home empty hand. We had  a fabulous night at the Wiltshire Business Awards.  Sadly we came home empty handed but it was an honour and privilege to be sat in a room with so many inspirational, successful people with amazing stories. Hard work pays off!! Passion and determination is all you need.

---
English Hair & Beauty Awards 2018
We had an absolutely fabulous night celebrating our achievements with other amazing industry professionals last night. Unfortunately we didn't win our category, being up against 10 other successful salons for 'Salon of the year' (South West) we knew it was going to be tough! Congratulations to all the nominees and winners of the night! Everyone works so hard to get to this point and it's a great way to celebrate our success and mingle with other professionals.
---
Celebrating 10 Years as Beauty Boutique!
NEW Logo, NEW look, NEWLY decorated salon. Ten years meant we needed to make some FRESH changes. Stand out from the crowd. We are pretty happy with it. We hope you like it too.
10 years ago I took a leap into the unknown as a fresh faced 24 year old and opened my own salon "Beauty Boutique" today I was able to celebrate surviving a whole decade in my amazing and beautiful salon with many of my wonderful and loyal clients. I've worked incredibly hard, been through a lot of tough times wondering if I could keep going but I never gave up as beauty therapy is my absolute passion and I'm so incredibly lucky that I go to work doing what I LOVE every single day.
A HUGE thank you to everyone who has supported me throughout the last ten years and to everyone who helped make today a success!! Roll on the next TEN!! 
---
Launching Footlogix
New this month to the Salon is a fabulous range of new products. Footlogix specialist pedicure now available at £30.
Footlogix is a revolutionary and innovative foot-care line formulated to provide effective, transformational care for a variety of skin conditions affecting the feet – from simple dryness to more severe conditions resulting from Diabetes. Footlogix delivers amazing results in as little as 24 hours!
Features and benefits:
Footlogix Pediceuticals are free of synthetic oils, enabling the mousse to penetrate the outer layers of the skin instantly, leaving no greasy residue.

Non-occlusive: do not seal or impede the natural functions of the skin, thereby allowing it to transpire normally.
Non-greasy: socks and shoes can be worn immediately after application, and will not break down support hose. Simply apply and go!
Effective: protects damaged skin against infections and most efficacious for the dryness associated with the Diabetic foot.
Easy to apply: products are rapidly absorbed.
Highly effective: clients see fabulous results immediately and transformation in a few days.
Endorsed: by leading Doctors and Podiatrists across North America and Europe.
Transformational: they will elevate the results of the standard pedicures to where "Medi meets Pedi". 
---
– Book Online –
We have just implemented a new booking system so that we can now take your bookings online, via our website and via Facebook. It should all be up and running successfully but if you do encounter any problems please let us know. Your feedback would be most welcome as we continue to strive to perfect our customer journey.
---
New OPI Pro Spa Skincare
The #1 Global Salon brand reinvents the Mani/Pedi with the unique facial skincare quality ingredients in the ProSpa range.
Formulated with cupuacu superfruit containing 9 essential fatty acids providing unparalleled moisture and anti-ageing effects, plus white tea extracts that help prevent breakdown of collagen and elastin resulting in younger looking hands and feet
Book your OPI Pro Spa manicure or pedicure now!
---
New, Hot Wax!
Now offering the delicious Berrylicious HOT WAX!!! Revolutionary, multidirectional wax that makes intimate waxing treatments a breeze. Multiflex encapsulates the hair and will not stick to skin so that it can be removed in almost any direction for ultimate client discretion and comfort with perfect results.
---
British Hair & Beauty Awards 2017
Absolutely ecstatic to announce that I have been crowned GOLD at the The British Hair and Beauty Awards 'Beauty Therapist of the year' category.

To have this recognition really is amazing & makes all my hard work and long days worth it!!
Thank you to all my wonderful & loyal clients. I've said it before but I'll say it again, there would be no Beauty Boutique without you and all your support. Thank you for those of you who have left reviews
I ❤️ my job, I ❤️ Beauty Boutique & I ❤️ my clients!!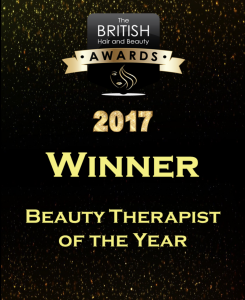 ---
Other Awards…
Its been great to be apart of some exciting things this year. A wonderful experience to be nominated as a finalist for the English Hair & Beauty awards at the start of 2017!

Read more: Swindon Advertiser article!
Other 2017 nominations include 'Beauty Salon of the Year' in the English Aesthetic & Beauty awards, recognising the success with CACI Non Surgical Facelift.

Alongside this we were awarded the title of 2017 'Beauty Salon of the Year' by LUX Global Excellence Awards!
---
CACI SYNERGY – The only Salon in Swindon to offer this advanced treatment!
Anyone who wishes to achieve effective and long lasting facial results without invasive procedures and address specific concerns such as muscle toning, reduction of fine lines, regenerating (stimulation of collagen and elastin), rejuvenating, pigmentation, scarring, and acne.
The CACI treatments can be performed as a one off for a boost for a special occasion but for long lasting and optimum results I recommend a course of 10 treatments (2 x per week) then maintained on a monthly basis.
With so much to offer I will always provide a consultation beforehand and recommend a treatment programme to suit your individual needs.